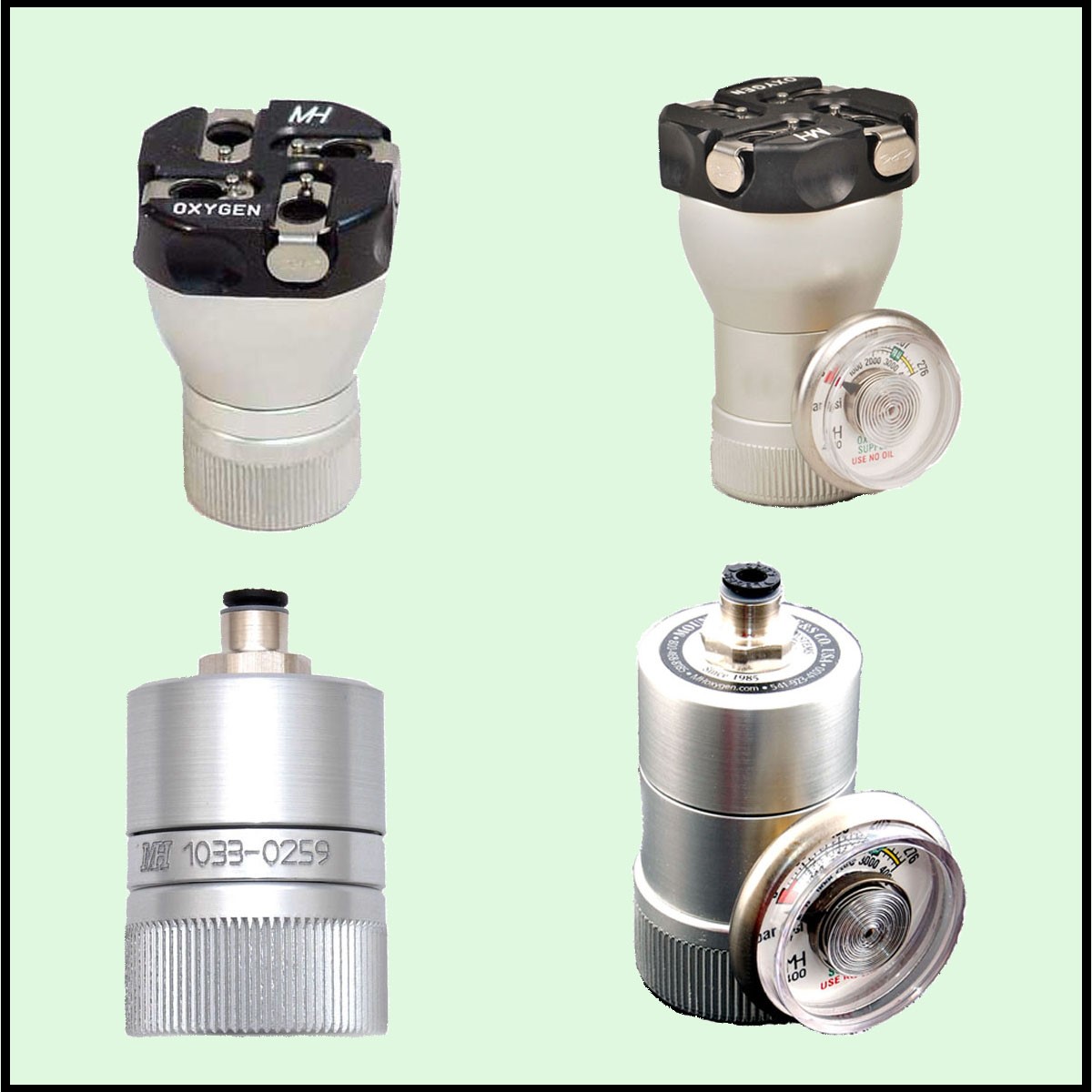 Regulators
MH Oxygen Regulators are constant-pressure regulators calibrated to deliver 15 -20 psig of dynamic pressure. Regulators are offered in CGA-540 (US standard) and DIN-477 (European standard). All MH regulators are designed and built by us at Mountain High allowing us to service and make any repairs the might be required.
XCR and XCP Single Outlet Regulators
The XCR and XCP series of regulators are single-outlet. These regulators feature the Push-to-Connect fitting system for 4 mm and 6 mm polyurethane tubing. The standard issue with our XCR and EDS single-unit system packages is the 00REG-1033-00 Regulator. The axial outlet versions are available in CGA-540 & DIN-477 with built-in cylinder pressure gauges. The XCR regulators connect directly to the refill/service-port of our oxygen cylinder with a CGA-540 valve. All single outlet regulators can be made into a 2-port regulator by adding a splitter.
Four-port XCP Regulators
For delivery to up to four passengers, this piston-type gauged oxygen regulator design is known for its ruggedness and flawless operation, even in an extreme environment. Calibrated operation is ensured in a wide range of inlet pressures, temperatures and shock-vibrations.
NOTE: We do not manufacture a 2-port regulator as we found the cost of manufacturing to be the same. This option also allow expansion at a later date without having to purchase a new regulator with additional ports.
All not used ports have a one way valve and are sealed when not in use.
In-line Reducing Regulator
The EDS-ILR oxygen stabilizing regulator allows you to operate EDS O2D1 or EDS -O2D2 units from an oxygen source with high service pressure, such as an aircraft with a built-in oxygen system. The EDS-ILR Regulator can be ordered with the most common OEM type connectors for direct 'Plug-n-Fly' with your aircraft type. (See below) Call for us for OEM options.
Display 100 Products per page
---
---
Pressure Regulators
Image
SKU
Name
Summary
Price
Buy

ARGX2-0101-01
SAE-4 Inlet, Pressure Regulator

Service Regulator SAE-4

$

245.00

00REG-1091-01
SAE-4 Inlet, High Pressure-High Flow

Custom Built to your specifications.

$

295.00

00REG-1033-01
XCR Axial Regulator (CGA 540)

XCR-1P Axial Regulator. Our biggest selling regulator.

$

249.00

Reg 2G Axial CGA-540 x 6mm Tube (EOS) with Gauge Port

6mm Push-to Connect Outlet with Gauge Port
This is a build to order item.

$

270.00

00REG-1034-02
XCR Regulator (DIN-477)(No-gauge)

XCR-DIN-1P Axial  No/Gauge (NEW EURO).

$

259.00

00REG-2110-
Regulator, Assy-2G, 2110 Series DIN-477-9 (Non-Gauged w/Port)

New, second generation series (2G) DIN Non-Gauged Regulator
3,000 psi (207 bar) rated

$

305.00 –

$

519.00

00REG-2111
Regulator, Assy-2G, 2111 Series DIN-477-9 Gauged

New, second generation series (2G) DIN Gauged Regulator

$

315.00 –

$

529.00

00REG-2100
Regulator, Assy 2G, 2100 series CGA-540 (No Gauge w/Port)

Regulator, CGA-540 (2G),  Single-Stage with Gauge Port (No Gauge)

$

289.00 –

$

475.00

00REG-2101
Regulator, Assy 2G, 2101 series CGA-540 Gauged

Regulator, CGA-540 (2G), Single-Stage (Gauged)

$

299.00 –

$

499.00

00REG-1096
Regulator, Dual Stage SAE-4M, 4mm or 6mm tube Axial

Regulator, Dual Stage SAE-4M

$

335.00

00REG-1052-01
EOS-6 Axial Quick Connect, No Gauge Port

EOS-6 Axial 6mm Quick Connect Regulator.

$

245.00

00XCR-1044-00
XCR-Y Split Kit

Split Kit 4mm (Y) . Allows (2) EDS units to be installed to one XCR Type Regulator.
One way check valves are incorporated into the (Y) fitting.

$

31.00

19600-0002-00
Poly Tube, 4mm, Red, 95 dur (Ft)

4mm OD, Red Poly Tubing as used in all O2D1 and O2D2 applications.

$

1.00

00REG-1048
EDS In-line Reducing Regulator (ILR)

EDS Reducing Regulator with your choice of Scott, 750, 566, or CPC connector.

$

230.00 –

$

475.00

00REG-1004-01
XCP-1P Regulator

XCP-1P 1 place regulator Now smaller, lighter and more compact than ever!

$

245.00

00REG-1018-02
XCP-4P Regulator CGA-540 (No Gauge)

FPR-REG-CGA540-no gauge

$

495.00

00CPG-1010-00
Gauge MH-300 Medium Pressure

MH-300 1.5″ Gauge w/1/8″ NPT(M) fitting, 0-3000psi.

$

25.00

00REG-1090-03
Regulator, High Pressure/High Flow CGA-540

High pressure and high flow oxygen regulator with CGA-540 connection.
This is a Build-to-Order item.

$

295.00

00CPG-1011-00
MH-400 High Pressure Gauge

MH-400 1.25″High-Pressure cylinder gauge

$

25.00

00REG-1092-0X
Regulator CGA-540 2-Stage, Axial

CGA-504 2-Stage Axial Regulator 4mm or 6mm.

$

345.00

00REG-1093-0X
Regulator CGA-540 2-Stage, Axial-Gauged

CGA-504 2-Stage Axial Regulator 4mm or 6mm. With Gauge.

$

395.00

APCR2-0100-00
PCR-2 CGA-540 Reg. Dual Action Assy.

Pneumatically Controlled Regulator (PCR-2)
Our new simple to install and simple to operate PCR-2 Oxygen regulator kit for built-in and portable applications. (Although these systems have been designed to meet and exceed FAA TSO and AIR specification, They are not meant for the certified market without an STC or 337.)

$

925.00

00REG-1095
Regulator DIN 477-9 2-Stage Axial Gauge

DIN 477-9 (Euro) 2-Stage Gauge Axial Regulator 4mm or 6mm.

$

415.00

00REG-1089-01
Regulator, High Pressure/High Flow DIN 477-9

High Pressure-High Flow, XCR-DIN-1P Axial  No/Gauge (NEW EURO).

This is a Build-to-Order item.

$

285.00

00EDS-1070-00
XCP to EDS supply adapter

XCP to EDS Feed Tube for CPC type connection.

$

10.00

00XCP-1030
XCP Tubing Extension (Variable Lengths)

XCP Extension Available in 3, 4, 6, & 20 ft. Lengths.

$

27.00 –

$

36.00

00XCP-1048-00
XCP-Y Split Kit

Split Kit 6mm (Y) CPC style connectors. Allows (2) EDS units to be installed to one XCP Type Regulator.
Female connectors have a one way check valve.
Tubing can be adjusted to length as needed.

$

55.00

00CPC-0016-00
Fitting 1/8 NPT-M w/cv (plastic)

CPC 1/8″ NPT-Male Connector with Check Valve.

$

15.75

19056-0403-00
Fitting one touch 4mm x 1/8 BSPP, 180º, one-touch

One-Touch 4mm x 1/8″ BSPP 180′ Fitting.

$

16.00

19056-0603-00
6mm x 1/8 BSPP, 180º, one-touch

One-Touch 6mm x 1/8″ BSPP.

$

13.25

19056-0404-00
Fitting one touch 4mm x 1/8 BSPP, 90º, one-touch

One-Touch 4mm x 1/8″ BSPP 90º Fitting.

$

11.60

19056-0604-00
Fitting 6mm x 1/8 BSPP 90º, one-touch

Fitting 6mm x 1/8 BSPP 90º, one-touch

$

16.00

09001-0011-90
O-RING 2-011 V90

Replacement O-Ring for all CGA-540 Regulator & Trans-fill.
Fits CGA-540 Nipple.

$

1.00

09001-3113-70
O-RING 2-113 E70 (DIN)

Replacement O-Ring for all DIN-477#9 regulators & transfill.
Fits DIN 477-9 Nipple.

$

1.00

00NTG-1012-00
NTG Co-Pilot Regulator W/Gauge

Co-Pilot replacement regulator with gauge

$

155.00