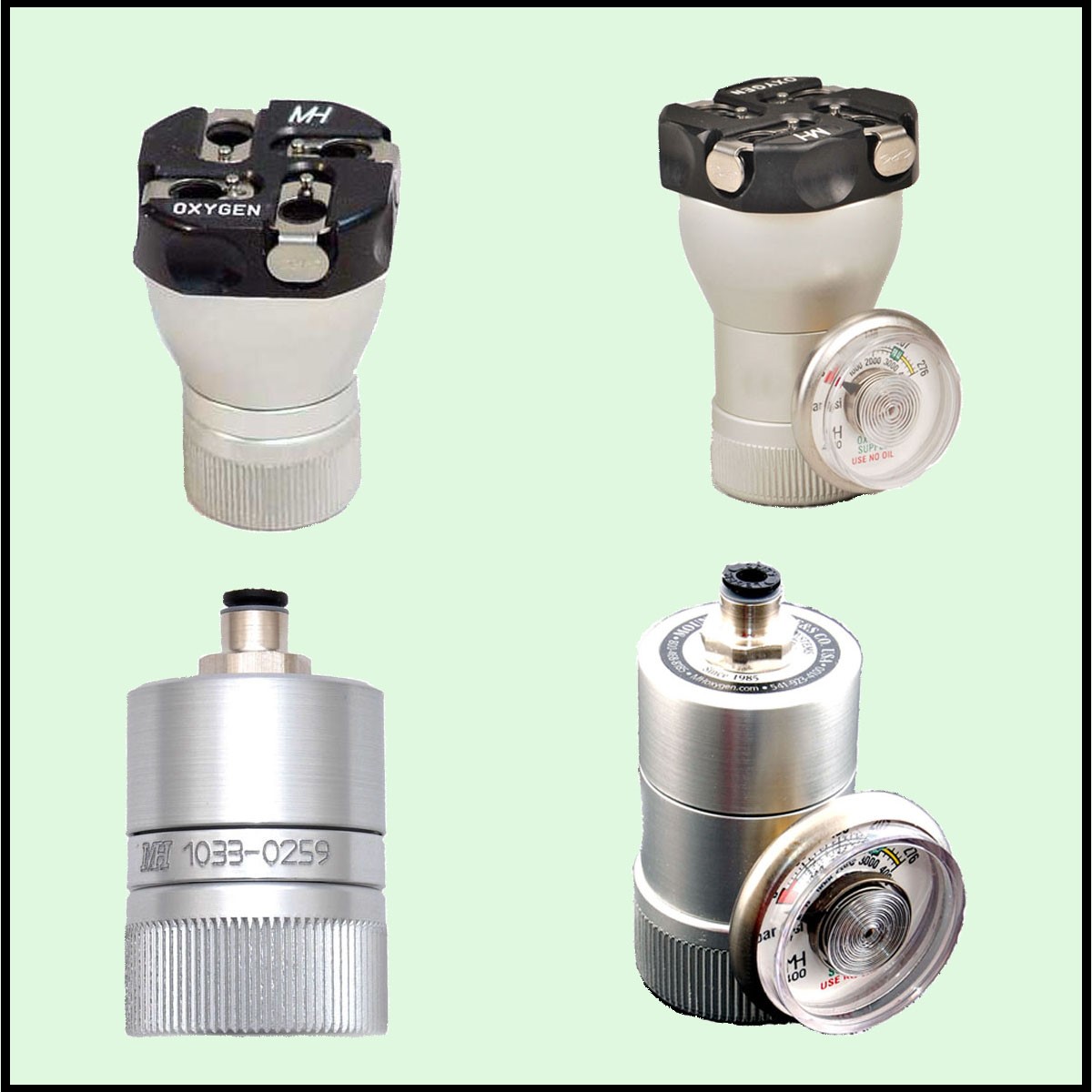 Regulators
MH oxygen regulators are constant-pressure regulators calibrated to deliver 15 -20 psig of pressure. Regulators are offered in CGA-540 (US standard) and DIN-477 (European standard).
XCR and XCP Single Outlet Regulators
The XCR and XCP series of regulators are single-outlet. These regulators feature one-touch fittings system for 4 mm. and 6 mm. polyurethane tubing. The standard issue with our XCR and EDS single-unit system packages is the 00REG-1032-00 Regulator. The axial outlet versions are available in CGA-540 & DIN-477 with built-in cylinder pressure gauges. The XCR regulators connect directly to the refill/service-port of our oxygen cylinder with a CGA-540 valve.
Four-port Regulators
For delivery to up to four passengers, this piston-type gauged oxygen regulator design is known for its ruggedness and flawless operation, even in an extreme environment. Calibrated operation is ensured in a wide range of inlet pressures, temperatures and shock-vibrations.
In-line Reducing Regulator
The EDS-ILR oxygen stabilizing regulator allows you to operate EDS O2D1 or EDS -O2D2 units from an oxygen source with high service pressure, such as an aircraft with a built-in oxygen system. The EDS-ILR Regulator can be ordered with the most common OEM type connectors for direct 'Plug-n-Fly' with your aircraft type. (See below) Call for us for OEM options.
Display 15 Products per page
---
---
Pressure Regulators