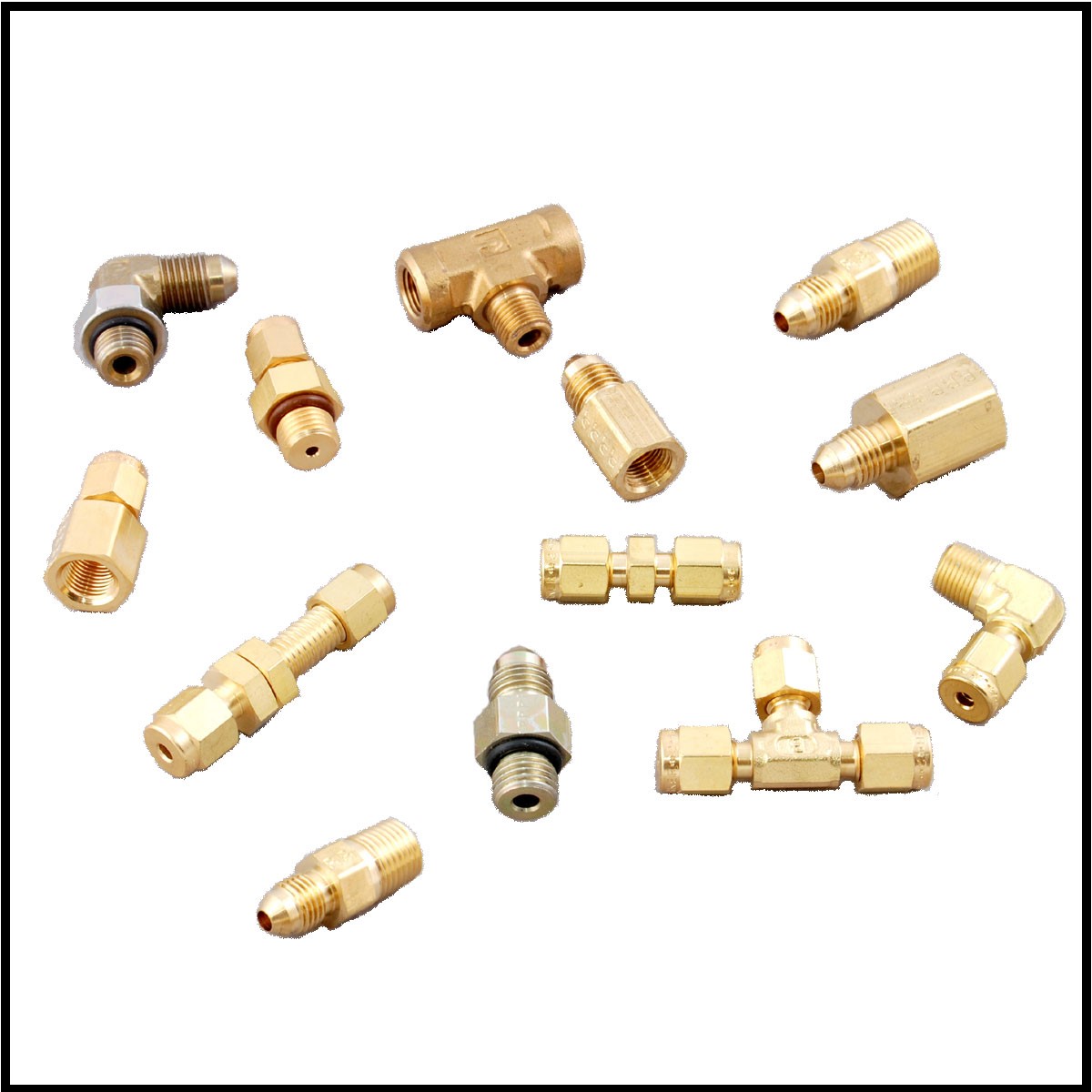 Hardware: High-pressure Fittings
Don't be fooled by Brass Hardware. All if our brass hardware is specifically designed for use with High Pressure applications.  All fittings are pre-cleaned for Oxygen use per MH ESR-008.
Use of non rated high pressure hardware may result in injury or death.
All of our hardware have an operating pressure of at least 3,000 psi (207 bar)
NOTE:  You will see big swings in prices on most fittings especially in Brass.
This is due to material and labor price increases.
Some hardware fittings have been discontinued or not available in Brass.
In those cases we have had to switch to Stainless Steel as a alternative, if available.
The lower prices you see on our hardware fittings is most likely older stock.
Everything we order in as new stock has had huge price increases.
Display 100 Products per page
---
---
High Pressure
Image
SKU
Name
Summary
Price
Buy

00HDW-0373-02
DIN 477-9 Nipple (New Euro Style)

Nipple DIN 477-9 to 1/4 NPT-M
w/o-ring & filter new euro
Cleaned for Oxygen use.

$

95.00

00HDW-0376-00
DIN 477-9 Nut

Nut-DIN-477-9
Cleaned for Oxygen use.

$

45.00

00HDW-0374-00
DIN 477-9 Socket

DIN 477-9 socket, 1/4 NPT-F
Cleaned for Oxygen use.

$

66.00

00HDW-0358-00
Nut CGA-540 Brass

Nut, CGA-540 brass
Cleaned for Oxygen use.

$

7.15

00HDW-0370-00
CGA-540 Nipple

Nipple CGA-540, 1/4 NPT-M w/filter, Brass
Includes internal filter.
Cleaned for Oxygen use.

$

13.00

00HDW-0370-01
CGA-540 Nipple w/ O-ring

Nipple CGA-540, 1/4 NPT-M w/filter & o-ring, Brass
Includes internal filter.
Cleaned for Oxygen use.

$

19.50

00HDW-0370-04
CGA-540 Nipple w/ O-ring, 1/8 NPT-F

Nipple CGA-540 with o-ring 1/8 NPT-F
Includes internal filter.
Cleaned for Oxygen use.

$

29.00

00HDW-0356-00
CGA-540 Socket, 1/4 NPT-F

CGA-540 Socket
1/4 NPT-F to CGA-540-S, Brass
Cleaned for Oxygen use.

$

19.00

00HDW-0360-00
CGA-540 Socket, 1/4 NPT-M

1/4 NPT-M To CGA-540-S brass
Cleaned for Oxygen use.

$

19.00

00HDW-0378-00
TEE coupler CGA-540 (brass)

TEE coupler CGA-540 (brass)
Cleaned for Oxygen use.

$

59.00

00HDW-0362-00
CGA-540 Hand-Grip Nut

nut CGA-540 with hand-grip
This is the same nut as the 00HDW-0358-00 only with the hand-grip.
Cleaned for Oxygen use.

$

29.00

09005-0001-00
E-Clip Retaining ring for CGA Nipples.

Retaining ring E 5/8
Retains the nut from slipping on the Nipple.

$

1.00

00HDW-0366-00
CGA-870 Yoke

CGA-870 Yoke 1/4″ NPT-M with sealing washer

$

89.00

00HDW-0366-02
Washer, for CGA-870 Cyl. Yoke

Replacement sealing washer for all TA-870 products.

$

1.00

00VEN-0112-01
PTFE Tape, Oxygen Use Approved

Aviation oxygen approved high density PTFE tape.

$

4.95

00HDW-0364-00
Reducing Adapter for steel cylinders

Reducing Adapter, 1 in NGT x 3/4-16 UNF

$

60.00

00HDW-0104-01
SAE-2-M To 1/8 Compression, Stainless Steel

S.S. SAE-2-M to 1/8″ Compression Fitting.
Currently we are unable to source this fitting in Brass.

$

15.00

00HDW-0108-01
SAE-4-M To 1/8" Compression, Stainless Steel

S.S. SAE-4-M to 1/8″ Compression Fitting.
Currently we are unable to source this fitting in Brass.

$

75.00

00HDW-0108-05
SAE-4-M To 1/8 Compression, Brass, modified with #10 filter

Brass SAE-4-M to 1/8″ Compression Fitting with Filter.

$

80.00

00HDW-0110-00
SAE-4-M To 3/16 Compression, Brass

Brass SAE-4-M to 3/16″ Compression Fitting.

$

28.00

00HDW-0118-00
1/8 NPT-M To 1/8 Compression, Brass

Brass 1/8″ NPT-M to 1/8″ Tube Compression Fitting.

$

21.00

00HDW-0120-00
Tube Fitting 1/8 NPT-F To 1/8 Compression, Brass

Brass 1/8″ NPT-F to 1/8″ Tube Compression Fitting.

$

29.00

00HDW-0122-01
Tube Fitting 1/8 NPT-M to 3/16" Compression, Stainless Steel

S.S.  1/8″ NPT-M to 3/16″ Tube Compression Fitting.
Currently we are unable to source this fitting in Brass.

$

29.00

00HDW-0124-01
Tube Fitting 1/8" NPT-F to 3/16" Compression-Stainless Steel

S.S  1/8″ NPT-F to 3/16″ Tube Compression Fitting.
Currently we are unable to source this fitting in Brass.

$

35.00

00HDW-0134-00
Tube Fitting 1/4" NPT-M to 1/8" Compression, Brass

Brass 1/4″ NPT-M to 1/8″ Tube Compression Fitting.

$

22.00

00HDW-0136-00
Tube Fitting 1/4 NPT-F To 1/8 Compression, Brass

Brass 1/4″ NPT-F to 1/8″ Tube Compression Fitting.

$

20.00

00HDW-0138-00
Tube Fitting 1/4 NPT-M to 3/16, Brass

Brass 1/4″ NPT-M to 3/16″ Tube Compression Fitting.

$

25.00

00HDW-0145-00
Tube Fitting 1/4 NPT-F To 3/16, Brass

Brass 1/4″ NPT-F to 3/16″ Tube Compression Fitting.
Non stocked, Special order item.

$

82.00

00HDW-0150-00
Elbow 1/8 NPT-M To 1/8, Brass

Brass Elbow 1/8″ NPT-M to 1/8″ Compression Fitting.

$

35.00

00HDW-0154-00
Elbow 1/8 NPT-M To 3/16, Brass

Brass Elbow 1/8″ NPT-M to 3/16″ Compression Fitting.

$

25.00

00HDW-0152-00
Elbow 1/8 NPT-F To 1/8, Brass

Brass Elbow 1/8″ NPT-F to 1/8″ Compression Fitting.

$

40.00

00HDW-0174-00
Tube Union 1/8 to 1/8, Brass

Brass Tube Union 1/8″ to 1/8″ Compression Fitting.

$

27.00

00HDW-0176-01
Tube Union 3/16 to 3/16, SS

Brass Tube Union 3/16″ to 3/16″ Compression Fitting.
No longer available in Brass, we have switched to Stainless Steel.

$

30.00

00HDW-0182-00
Tube Union 1/8 TO 1/8 BH, Brass

Brass Bulkhead Union 1/8″ to 1/8″ Compression Fitting.

$

21.00

00HDW-0204-00
Tee Union 1/8 in. OD 3-way, Brass

Brass Tee 1/8″ OD 3-Way Compression Fitting.

$

45.00

00HDW-0206-00
Tee Union 3/16 in. OD 3-way, Brass

Brass Tee 3/16″ OD 3-Way Compression Fitting.

$

35.00

00HDW-0212-00
Ferrule & Nut Set, 1/8" Compression, Brass

Brass 1/8″ Ferrule & Nut Set Compression Fitting.

$

16.35

00HDW-0212-BB
Ferrule Back, 1/8" Compression, Brass

Brass 1/8″ Ferrule Back Compression Fitting.

$

4.50

00HDW-0212-FB
Ferrule Front, 1/8" Compression, Brass

Brass 1/8″ Ferrule Front Compression Fitting.

$

4.50

00HDW-0214-00
Ferrule & Nut Set, 3/16" Compression, Brass

Brass 3/16″ Ferrule & Nut Set Compression Fitting.

$

13.50

00HDW-0214-BB
Ferrule Back, 3/16" Compression, Brass

Brass 3/16″ Ferrule Back Compression Fitting.

$

4.50

00HDW-0212-ST
Ferrule Set, 1/8" Compression, Brass

Brass 1/8″ Ferrule and Ring Compression Set.

$

9.00

00HDW-0214-ST
Ferrule Set, 3/16" Compression, Brass

Brass 3/16″ Ferrule and Ring Compression Set.

$

9.00

00HDW-0216-00
Ferrule & Nut Set, 1/8" Compression, Stainless Steel

Stainless Steel  1/8″ Ferrule & Nut Set Compression Fitting.

$

16.35

00HDW-0218-00
Ferrule & Nut Set, 3/16" Compression, Stainless Steel

Stainless Steel  3/16″ Ferrule & Nut Set Compression Fitting.

$

27.95

00HDW-0214-NB
Ferrule Nut, 3/16, Compression, Brass

Brass 3/16″ Ferrule Nut Compression Fitting.

$

5.10

00HDW-0300-00
Union 1/4 NPT-M To 1/4 NPT-M, Brass

Brass Union 1/4″ NPT-M to 1/4″ NPT-M

$

15.00

00HDW-0302-00
Union 1/8 NPT-M To 1/8 NPT-M, Brass

Brass Union 1/8″ NPT-M to 1/8″ NPT-M

$

10.00

00HDW-0304-00
Union 1/4 NPT-F to 1/4 NPT-F, Brass

Brass Union 1/4″ NPT-F to 1/4″ NPT-F

$

22.00

00HDW-0306-00
Union 1/8 NPT-F, Brass

Brass Union 1/8″ NPT-F to 1/8″ NPT-F

$

18.00

00HDW-0308-00
Union Reducing 1/4 NPT-F to 1/8 NPT-F, Brass

Brass Reducing Union 1/4″ NPT-F to 1/8″ NPT-F

$

28.00

00HDW-0314-00
Union Reducing 1/4 NPT-M To 1/8 NPT-F, Brass

Brass Reducing Union 1/4″ NPT-M to 1/8″ NPT-F

$

7.15

00HDW-0316-00
Elbow 1/4 NPT-M to 1/4 NPT-M, Brass

Brass Elbow 1/4″ NPT-M to 1/4″ NPT-M

$

26.50

00HDW-0318-00
Elbow 1/8 NPT-M to 1/8 NPT-M, Brass

Brass Elbow 1/8″ NPT-M to 1/8″ NPT-M

$

15.00

00HDW-0320-00
Elbow 1/4 NPT-F to 1/4 NPT-F, Brass

Brass Elbow 1/4″ NPT-F to 1/4″ NPT-F

$

35.00

00HDW-0322-00
Elbow 1/8 NPT-F to 1/8 NPT-F, Brass

Brass Elbow 1/8″ NPT-F to 1/8″ NPT-F

$

14.00

00HDW-0324-00
Elbow 1/4 NPT-M to F, Brass

Brass Elbow 1/4″ NPT-M to 1/4″ NPT-F

$

24.00

00HDW-0326-00
Elbow 1/8 NPT-M To 1/8 NPT-F, Brass

Brass Elbow 1/8″ NPT-M to 1/8″ NPT-F

$

26.00

00HDW-0329-00
1/4 NPT-M to 1/8-F Reducing Elbow

1/4 NPT-M to 1/8-F Redu. Elbow

$

55.00

00HDW-0332-00
Union Tee 1/4 NPT-F, Brass

Brass Union Tee 1/4″ NPT-F

$

35.00

00HDW-0334-00
Street Tee 1/4 NPT, Brass

Brass 1/4″ NPT Street Tee

$

79.00

00HDW-0336-00
1/4 NPT-M Tee Brass

1/4 NPT-M tee brass

$

29.00

00HDW-0338-00
1/4 Branch Tee, Brass

1/4 Branch Tee, Brass

$

16.00

00HDW-0340-00
Union Tee 1/8 NPT-F, Brass

Brass Union Tee 1/8″ NPT-F

$

29.00

00HDW-0342-00
Tee Run 1/8 NPT, Brass

Brass Street Tee 1/8″ NPT

$

48.75

00HDW-0346-00
Tee Branch 1/8 NPT, Brass

Brass Branch Tee 1/8″ NPT

$

39.00

00HDW-0348-00
Cross 1/4 NPT-F, Brass

Brass Cross 1/4″ NPT-F

$

55.00

00HDW-0350-00
Cross 1/8 NPT-F, Brass

Brass Cross 1/8″ NPT-F

$

17.00

00HDW-0351-00
1/8 NPT-F Bulkhead .99, Brass

Brass 1/8″ NPT-F Bulkhead .99 Fitting

$

39.00

00HDW-0352-00
Union 1/8 NPT-M to F, Brass

Brass Union 1/8″ NPT-M to 1/8″ NPT-F

$

21.50

00HDW-0355-00
1/4 NPT-F Bulkhead .99, Brass

Brass 1/4″ NPT-F Bulkhead .99 Fitting

$

12.50

00HDW-0113-00
JIC-4 (M)-1/8NPT(F), Brass

Brass 4 JIC-M to 1/8″ NPT-F Compression Fitting.

$

20.00

00HDW-0319-00
JIC-4 (M) to 1/4 NPT-M, Brass

Brass 1/4″ NPT-M to -4 JIC-M

$

9.50

00HDW-0321-00
JIC-4 (M) to 1/8 NPT-M, Union Brass

Brass Union -4 JIC-M to 1/8″ NPT-M

$

6.00

00HDW-0325-00
JIC-4 (M) to 1/8 NPT-M Elbow, Brass

Elbow, Brass  JIC-4 (M) to 1/8″ NPT-(M)

$

23.00

00HDW-0202-00
JIC-4 (M) to 1/8 NPT-M Brass Tee

Brass Union Tee -4 JIC to  1/8″ NPT-M

$

49.95

00HDW-0317-00
JIC-4 (M) to 1/4 NPT-F, Brass

Brass -4 JIC-M to 1/4″ NPT-F

$

25.00

00HDW-1382-00
JIC-4 (M) to 1/8 BSPP, Steel

1/8″ BSPP to JIC-4 Flare Steel Fitting.

$

25.00

00HDW-0315-00
SAE-4 (F) to 1/8 NPT-M, Brass

Brass Adaptor 1/8″ NPT-M to -4 SAE-F

$

69.00

00HDW-0395-00
Valve, Line, Panel Mount

1/4″ NPT-F Inlet – 1/4″ NPT-M Outlet

Bulk Head Mounted

6000 PSI Working Pressure

$

89.00

00HDW-0397-01
Valve, Line, Main Transfer

1/4″ NPT-F Inlet – 1/4″ NPT-M Outlet

6000 PSI Working Pressure

$

100.00

00HDW-0397-02
Valve line w/bleed

Inline Bleed Valve

$

163.00

00HDW-1381-01
SAE-4 (M) to JIC-4 Flare, SS

SAE-4 (M) to JIC-4 Flare SS Fitting.

$

34.00

00HDW-0113-05
SAE-4 (M) to 1/8 inch NPT-F, Brass

SAE-4M to 1/8 NPT-F, Brass (with O-Ring)

$

23.00

00HDW-1381-02
SAE-4 (M) to JIC-4 Flare, Steel

SAE-4 (M) to JIC-4 Flare Steel Fitting.

$

6.25

00HDW-1383-02
SAE-4 (M) to JIC-4, 90º, Steel

SAE-4 to JIC-4  90′ Steel Fitting.

$

25.00

09001-0011-90
O-RING 2-011 V90

Replacement O-Ring for all CGA-540 Regulator & Trans-fill.
Fits CGA-540 Nipple.

$

1.00

09001-3113-70
O-RING 2-113 E70 (DIN)

Replacement O-Ring for all DIN-477#9 regulators & transfill.
Fits DIN 477-9 Nipple.

$

1.00