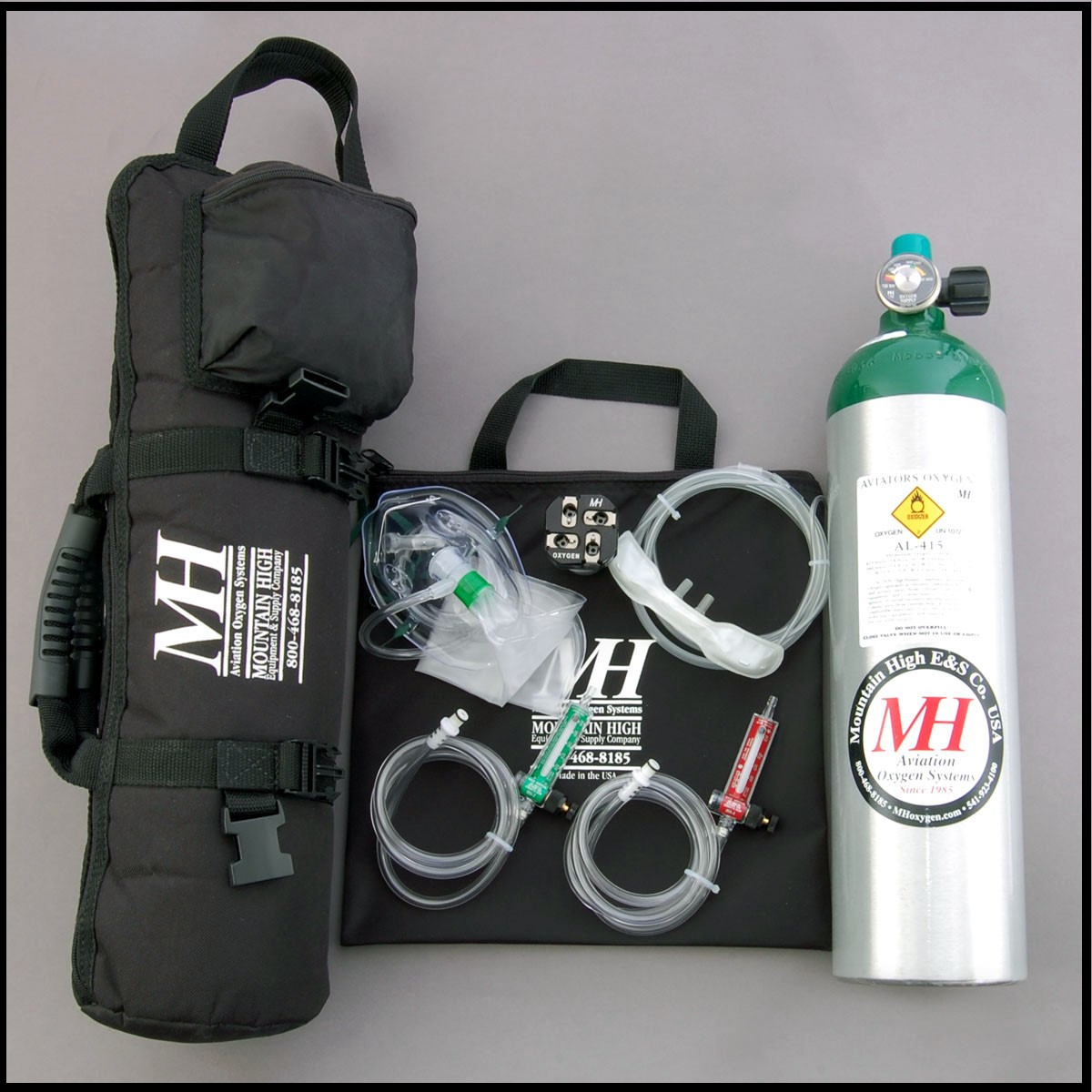 Portable Constant-Flow Systems
All cylinders must be shipped empty to meet DOT HAZMAT requirements.
XCP Systems
The MH XCP Constant Flow Series are our most economical, single and multi-place, portable oxygen systems for general aviation. Weight is kept to a minimum by our low profile, light weight regulators, MH-3 or MH-4 flowmeters and cylinders. The XCP systems come complete with cylinder, regulator, Mountain High MH-3 or MH-4 Flowmeters, Oxymizer® cannula, face mask, tote bag for each station and a carry case for easy carrying or seat back mounting. The XCP system can be used up to 25,000 ft. with the MH-4 Flowmeters and face masks. Choose the MH-3 Flowmeter for flights up to 18,000 ft.
All cylinders must be shipped empty to meet HAZMAT requirements.
XCR Systems: Hang Gliding / Paragliding
The XCR system is an excellent choice for the pilot who needs a small wearable system for hang gliding, paragliding or any situation where space is at a minimum and ease of use is a must.
EOS: Emergency Oxygen Systems
Oxygen systems intended for use during situations such as cabin depressurization and other emergencies where back-up oxygen is a must.
Flowmeters
The MH-3 & MH-4 Flowmeters are featured in our constant flow oxygen systems. The MH-3 Flowmeter is calibrated for use with the Oxymizer® cannula for flight up to 18,000 ft. The MH-4 has two altitude/flow scales. The left (compressed) scale is calibrated for the Oxymizer® cannula and is limited to flight of 18,000 ft. and below. The right scale is calibrated for a standard cannula or facemask up to 25,000 ft. The MH-3 & MH-4 Flowmeters can be ordered with a connector and tubing to work with almost any type of built-in or portable aircraft oxygen system.
Display 100 Products per page
---
---
Portable Constant Flow Systems
Image
SKU
Name
Summary
Price
Buy

00EOS-0006-02
EOS-180 2-Place Emergency System w/FullPack

2-place system with AL-180 (6 cu.ft.) aluminum cylinder, XCP-FPR 4-Place regulator, 2 ea. EOS non-accumulating, non-rebreathing face masks with flow orifices and oxygen flow indicators. A padded Full-Pack cylinder bag is included for strapping to a seat-back or other suitable surface.

$

825.00

00EOS-0006-04
EOS-180 4-Place Emergency System w/FullPack

4-place system with AL-180 (6 cu.ft.) aluminum cylinder, XCP-FPR 4-Place regulator, 4 ea. EOS non-accumulating, non-rebreathing face masks with flow orifices and oxygen flow indicators. A padded Full-Pack cylinder bag is included for strapping to a seat-back or other suitable surface.

$

975.00

80BST-0701-00
Boost Oxygen 10 liter

THIS PRODUCT CAN ONLY SHIP BY GROUND.

Clean, natural, odorless, tasteless, 95% pure Aviator's Breathing Oxygen.

$

17.99

80BST-0601-00
Boost Oxygen 5 liter

THIS PRODUCT CAN ONLY SHIP BY GROUND.

Clean, natural, odorless, tasteless, 95% pure Aviator's Breathing Oxygen.

$

11.99

00XCP-0001
XCP (constant Flow) Systems

The MH-XCP Constant Flow series is our most economical single and multi-place, portable oxygen system for general aviation.

$

559.00 –

$

2,695.00

00XCP-1070
XCP Breathing Stations

The XCP Breathing Stations are a complete kit to add one or more users to our XCP- MH portable system. It comes with your choice of MH-3 or MH-4 Flowmeter and tubing, Oxymizer™ Cannula, Facemask, and carry-bag.

All XCP Systems uses the CPC style connector.
For CPC type fittings used on Cirrus/Columbia/Cessna-Corvallis and others, see the Built-In section.

$

135.00

00XCP-1044-00
XCP Mustache-Style Oxymizer Cannula

For use with our XCP constant flow systems with the MH-3 flowmeter.

Not for use with EDS systems. Use for XCP constant flow only!

$

32.00

00XCP-1046-00
XCP Pendant-Style Oxymizer Cannula

Pendant-Style Oxymizer Cannula conects directly to the outlet of our MH-3 or MH-4 flowmeters.

$

32.00

00XCP-1092-00
E-Z Breathe-II Boom Cannula for XCP (Flowmeter type)

E-Z Breathe Boom Cannula for MH and most Constant Flow systems.
For use with Flow-meters.

$

99.00

00XCP-1040-01
XCP Standard Aviators Cannula

XCP Standard Aviators Cannula for use with the MH-4 Flowmeters.

$

6.00

AMSK-2000
ALPS Facemasks with or without Microphone

Available in small, medium and large, with or with out microphone and choice of feed-tube.

$

189.00 –

$

545.00

00XCP-1050-01
Face Mask MH-XCP

Constant flow face mask to be used with a MH-4 flowmeter.

$

12.00

00XCR-0001
XCR Oxygen Systems

Choose either a MH-3 (FL180) or MH-4 (FL250) Flowmeter for you breathing station.

$

659.00 –

$

1,195.00

00XCR-1046
XCR Delivery System

MH-3 flowmeter with a cannula up to altitude of 18,000 ft.  MH-4 flowmeter has two altitude flow scales above 18,000 ft. use a face-mask up to 25,000 ft.

$

449.00 –

$

499.00

00XCR-1032
XCR Breathing Stations

MH-3 flowmeter with a cannula up to altitude of 18,000 ft.  MH-4 flowmeter has two altitude flow scales above 18,000 ft. use a face-mask up to 25,000 ft.

$

289.00

00XCR-1040-00
XCR Conserving Cannula

Replacement XCR cannulas
Not for use with EDS or XCP systems. Use for XCR constant flow only!

$

39.00

00XCR-1036-00
Face Mask XCR w/tubing

Face mask to be used with our XCR systems, which has a MH-3 or MH-4 Flowmeter.

$

14.90

00XCR-1042-00
XCR Conserving (Pendant) Cannula

Replacement XCR cannulas
Not for use with EDS or XCP systems. Use for XCR constant flow only!

$

39.00

00EOS-0018-00
Face Mask EOS

EOS Replacement Facemask.
Includes Roto Flow Indicator and CPC style fitting.

$

36.00

00XCR-1044-00
XCR-Y Split Kit

Split Kit 4mm (Y) . Allows (2) EDS units to be installed to one XCR Type Regulator.
One way check valves are incorporated into the (Y) fitting.

$

31.00

AMSK0-0101
Feedtube Assembly for ALPS, Emergency (EOS) Masks

Feedtubes to use ALPS for Emergency

$

69.00 –

$

109.00

00EOS-0008-04
EOS-011 4-Place Emergency System w/Mounting Kit

4-place (with aircraft cylinder mounting kit) system with KF-011 (11 cu. ft.) Kevlar Composite Cylinder, EOS-1054 regulator,4 ea. EOS face masks, Cylinder mounting brackets and all hardware needed for a built-in EOS system. Great for use in Experimental Pressurized Aircraft.

$

1,550.00

00XCR-1038-00
Switch XCR On/Off NO

$

79.00

00NTG-1008-00
NTG Co-Pilot Face Mask

Co-Pilot replacement face mask

$

5.00

0MH34-0101-00
Flowmeters MH-3 and MH-4

MH-3 or MH-4 Flowmeter. Without Tubing or clamps.


$

73.80

00XCP-1036
XCP Flowmeter with CPC Fittings & Tubing

XCP Flowmeters WITH TUBING


$

79.00 –

$

99.00

00XCP-1030
XCP Tubing Extension (Variable Lengths)

XCP Extension Available in 3, 4, 6, & 20 ft. Lengths.

$

27.00 –

$

36.00

00XCP-1048-00
XCP-Y Split Kit

Split Kit 6mm (Y) CPC style connectors. Allows (2) EDS units to be installed to one XCP Type Regulator.
Female connectors have a one way check valve.
Tubing can be adjusted to length as needed.

$

55.00

00OEM-0010-00
Roto-Flow Indicator Red

This device is intended to be placed in between the source of oxygen and the dispensing device to provide a visual indication resulting from a positive flow of oxygen to that dispensing device.

$

14.00

00OEM-0020-00
TFI Toggle Flow Indicator

Toggle Flow Indicator: Green = Flow. Clear = No flow.

$

46.00