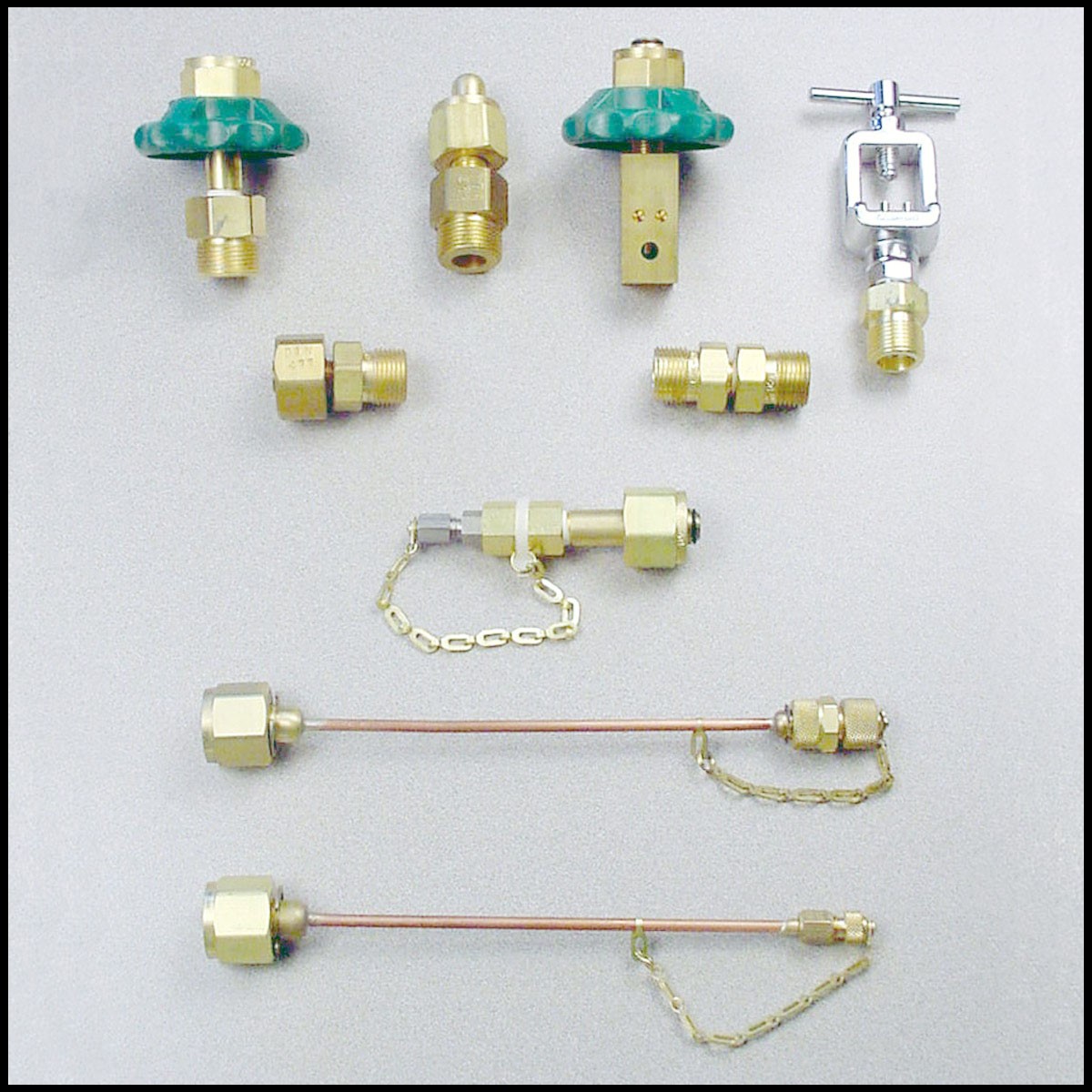 Ground Support Equipment (GSE)
With the MH line of FBO GSE transfillers and adapters, you can easily refill your cylinders by using an aviators breathing oxygen cylinder, saving time and money. All MH GSE products meets or exceed SAE, CGA and DOT specifications.
Contrary to common myths, there are no different grades of oxygen in cylinders maintained under DOT regulations. You can save yourself time and money by filling your own cylinder. What you will find at many FBO's is an oxygen-cart with a group of large oxygen cylinders cascaded together with a high-pressure hose-line system. This cart is pulled out to an aircraft if it has a built-in system. If you are going to use oxygen on a frequent basis, you can rent/lease the same cylinders, place them in a safe place in your hangar, cascade them together with our CIC kits, use one of our transfiller units and have your own mini oxygen service station. If you do not have a transfilling system and are filled by a compressed gas facility, be sure to inform them that your oxygen cylinder is for 'aviator's breathing oxygen'.
With our MH line of GSE Oxygen-Fitting Adapters and MH Transfilling-Adapters you will have the confidence to connect, service and refill almost any type of oxygen cylinder for aviation. Our MH Oxygen transfilling adapters allow you to interconnect between CGA-540, (North American Industrial Standard), CGA-870 (Medical), and DIN-477-9 (the European Union [EU] Standard). Custom adapters can be made-to-order, call 800-468-8185 for details.
Display 100 Products per page
---
---
Ground Support Equipment
Image
SKU
Name
Summary
Price
Buy

00CPG-1017-00
Pressure Gauge 5,000psi

Pressure Gauge  2.0″ 5,000psi (345 bar) 1/4″ NPT-M

$

30.00

00HDW-0366-02
Washer, for CGA-870 Cyl. Yoke

Replacement sealing washer for all TA-870 products.

$

1.00

00GSE-1008
TR-55 Transfiller

TR-55 Oxygen Transfiller

CGA-540 USA Standard

DIN-477 Euro Norm

$

175.00 –

$

253.00

00GSE-1100
TR-75c Aviation Oxygen Cylinder Transfiller

TR75c Oxygen Transfiller

CGA-540 USA Standard

DIN-477 Euro Norm

$

411.00 –

$

599.00

00GSE-1104
TR-95c Oxygen Cylinder Transfiller System

TR95c Oxygen Transfiller  (Our most popular Trans-fill hose)

CGA-540 USA Standard

DIN-477 Euro Norm

$

499.00 –

$

660.00

00GSE-1108
TR-105c Dual Gauge Oxygen Transfiller

TR-105c  4 ft. Oxygen Transfiller

CGA-540 USA Standard

DIN-477 Euro Norm

$

589.00 –

$

679.00

00GSE-1014-00
TR-875 Transfiller, CGA-870 Yoke - CGA-540 Nipple

TR-875-Transfiller(1.5ft)-CGA870 Yoke-CGA540

$

239.00

00GSE-1020-00
CIC-540 Cylinder Intercoupling Kit for CGA-540 cylinders

CGA-540 cylinder intercoupling kit

$

199.00

00GSE-1050-00
FBO (CGA-540) OXYGEN SERVICE Kit, without hose

FBO Ground Support Equipment (GSE) Kit without hose.
For optional hose use 00HDW-0013-xx series.  (-xx is length)

$

1,425.00

00GSE-1050-08
FBO (CGA-540) OXYGEN SERVICE KIT, w/8 ft hose for professional operations

FBO Ground Support Equipment (GSE) Kit w/8ft hose

$

1,575.00

00GSE-1047-00
Non-Venting (CGA-540) Transfill Regulator with Gauges and Valve

Regulator Assy with Gauges and Valve only (00GSE-1047-00) (No hose or adapters)
Cleaned for Oxygen use.

$

1,095.00

00GSE-1051-00
DIN EURO-FBO OXYGEN SERVICE Kit, without hose

DIN Euro FBO Ground Support Equipment (GSE) Kit without hose.
For optional hose use 00HDW-0013-xx series.  (-xx is length)

$

1,650.00

00GSE-1051-08
DIN EURO-FBO OXYGEN SERVICE KIT, w/8 ft hose for professional operations

DIN Euro FBO Ground Support Equipment (GSE) Kit with 8ft hose.

$

1,795.00

00GSE-1048-00
Non-Venting (DIN) Transfill Regulator with Gauges and Valve

DIN-Regulator Assy with Gauges and Valve only (00GSE-1048-00) (No hose or adapters)
Cleaned for Oxygen use.

$

1,225.00

00GSE-1000-00
TA-380-N Transfiller Adapter

TA-380-N, Adapts CGA-540 to the AN-800 (3/8-24) fitting .
Commonly known as the MS22066 and MS22035 filler ports. A nut and nipple is on the CGA-540 end to attach to transfiller lines.

$

146.00

00GSE-1002-00
TA-380-S Transfiller Adapter

TA-380-S, Adapts CGA-540 to the AN-800 (3/8-24) fitting .
Commonly known as the MS22066 and MS22035 filler ports. A socket is on the CGA-540 end to attach to transfiller lines. This is our most common adapter.

$

149.00

00GSE-1004-00
TA-916-S Transfiller Adapter

TA-916-S, Adapts CGA-540 to the Scott fitting (9/16-18 threads). Commonly known as the Scott 26875, 5020-1Airline or AS1046 fitting.A socket is on the CGA-540 end to attach to transfiller lines.

$

186.00

00GSE-1026-00
TA-916-N/Scott Transfiller Adapter

TA-916-N, Adapts CGA-540 to the Scott fitting (9/16-18 threads). Commonly known as the Scott 26875, 5020-1Airline or AS1046 fitting. A nut and nipple is on the CGA-540 end to attach directly to cylinders.

$

179.00

00GSE-1006-00
Transfill Adapter, 540-540-Ga/Gender Switch

CGA-540 to CGA-540 Gender Switch (TA-540S-540S)

$

50.00

00GSE-1022-00
Transfill Adapter, DIN 477-9 (Euro) to CGA-540

DIN 477-9 (Euro) Socket to CGA-540 Grip Knob Transfill Adapter. [TA-540K(N)-DIN(S)]

$

149.00

00GSE-1023-00
Transfill Adapter, CGA-540 to DIN 477-9 (Euro)

CGA-540 to DIN 477-9 (Euro) Transfill Adapter. (TA-540N-DIN(S)

$

129.00

00GSE-1037-01
Transfill Adapter, (AN800-SCT) 3/8-24 to 9/16-18, w/AN-800 cap

Scott (FM) Nipple to AN-800(M) Socket Transfill Adapter

$

109.00

00GSE-1038-00
Transfill Adapter, 1/8 NPT-M To 9/16 Scott Adp.

9/16 Scott Adapter (FM) Nipple to 1/8 NPT-M Transfill Adapter

$

90.25

00GSE-1039-XX
Transfill Adapter, JIC-4 to AN-800 nipple

JIC-4 To AN-800 Nipple Transfill Adapter

$

99.00 –

$

110.00

00GSE-1040-00
Transfill Adapter 1/8 NPT (M) to AN-800 nipple 3"

transfill adapter 1/8 NPT (M) to AN-800 nipple 3″

$

79.00

00GSE-1041-00
Transfill Adapter, JIC-5 to AN-800 nipple, 3 in. Length.

JIC-5 to AN-800 Nipple Transfill Adapter

$

93.00

00GSE-1042-00
Transfill Adapter, 1/4 NPT-Male to AN-800 nipple, 3 in.

1/4 NPT Male to AN-800 Nipple Transfill Adapter

$

92.00

00GSE-1043-02
Transfill Adapter, JIC-4 to 9/16 Scott

JIC-4 to 9/16 Scott Transfill Adapter

$

120.00

00GSE-1052-0X
Transfill Adapter, 9/16-18 UNF socket to AN-800 nipple

One side is the  9/16-18 UNF Socket and the other end is the AN-800 (3/8-24) Nipple.

Available in (2) lengths

$

85.00 –

$

86.00

00GSE-1098-01
Transfiller Accessory, Grip Knob Tube Wrench

A must have tool!
MH – Transfill Nut-Driver Wrench

$

49.00

Custom Applications

We have our own brazing & silver-soldering facility.

Using the 3/16″ copper tubing we can make most custom applications that you might need.

Call for pricing and availability.

00GSE-1024-00
Transfill Adapter, 870-Y to CGA-540-S

870-Y Medical to CGA-540 Socket Transfill Adapter. (TA-870-Y)

$

125.00

00GSE-1025-00
Transfill Adapter, CGA-870-P to CGA-540

870-P Medical to CGA-540 Nipple Transfill Adapter. (TA-870-P)

$

149.00

00GSE-1027-00
Transfill Adapter, DIN 477-9 (Euro) to CGA-540

CGA-540 Socket Male to DIN 477-9 (Euro) Nut-Nipple Transfill Adapter. (TA-540(S)-DIN(N)

$

179.00

00GSE-1028-00
Transfill Adapter, DIN 477-9 (Euro) to DIN 477-9 (Euro)

DIN 477-9 (Euro) Nipple to DIN 477-9 (Euro) Socket Male Transfill Adapter. (TA-DIN(N)-DIN(S)

$

189.00

00GSE-1029-01
Transfill Adapter, CGA-540 to AN-800

CGA540 Nipple to AN800 (3/8-24) Transfill Adapter. (TA-540-AN800)

$

99.00

00GSE-1030-00
Transfill Adapter, BSPP-M to CGA-540

1/4 BSPP Male to CGA-540 Nipple Transfill Adapter

$

99.00

00GSE-1031-00
Transfill Adapter, BSPP-M to DIN-477

1/4 BSPP Male to DIN-477 new Euro oxygen Transfill Adapter

$

179.00

00GSE-1032-00
Transfill Adapter, CGA-540 to 9/16-18 M Scott, w/cap

CGA-540 Nipple to 9/16-18 Scott-Male Transfill Adapter. (TA-540N-SCOTT-M)

$

105.00

00GSE-1033-00
Transfill Adapter, DIN 477-9 to AN800

DIN 477-9 (Euro) to AN800 oxygen Transfill Adapter. (TA-DIN-AN800)

$

235.00

00GSE-1035-00
Transfill Adapter, -4 JIC (Male) to DIN 477-9 (Euro)

Transfill Adapter TA DIN 477-9N (Euro) to -4JIC-M

$

189.00

00GSE-1044-00
Transfill Adapter, BS-341-3 to CGA-540

BS-341-3 (nipple) to CGA-540 (socket)  Transfill Adapter. (TA-BS341N-540(S)

$

95.00

00GSE-1045-00
Transfill Adapter, -4 JIC (Male) to CGA-870

Medical Style -4 JIC Male to CGA-870 Yoke Transfill Adapter.

$

159.00

00GSE-1046-00
Transfill Adapter, -4 JIC (Male) to CGA-540

CGA-540 to JIC-4 Transfill Adapter. (TA-540N-JIC)

$

68.00

00GSE-1049-00
Transfill Adapter, DIN-477-6N to CGA-540S

Converts DIN-477-6 to CGA-540 male socket

$

139.00

0CP01-0100-01
AN-800-3 Cap and Chain

Replacement AN 800-3 Cap and Chain (Brass)

$

25.00

0CP02-0103-01
Scott Cap and Chain

Replacement Scott Cap and Chain (Brass)

$

45.00

0CP01-0101-01
AN-800-3 Socket/Chain Assy

Replacement socket and chain for AN-800 (3/8-24) Nut and Nipple.

$

22.25

00HDW-0397-02
Valve line w/bleed

Inline Bleed Valve

$

163.00

00HDW-0013
4jicF Flex Hose, Nominal Bore

Nominal bore No. 4 Braided Flex-Hose, 4jic-female swivel on both ends.
Also used in the FBO Transfill kit.

$

60.00 –

$

290.00

09001-0011-90
O-RING 2-011 V90

Replacement O-Ring for all CGA-540 Regulator & Trans-fill.
Fits CGA-540 Nipple.

$

1.00

09001-3113-70
O-RING 2-113 E70 (DIN)

Replacement O-Ring for all DIN-477#9 regulators & transfill.
Fits DIN 477-9 Nipple.

$

1.00

00VEN-0111-05
Christo-Lube MCG 111 Tube -5g For Oxygen

Non-reactive lubricant safe for aviation oxygen equipment.
Great for use on O-Rings.

$

11.95