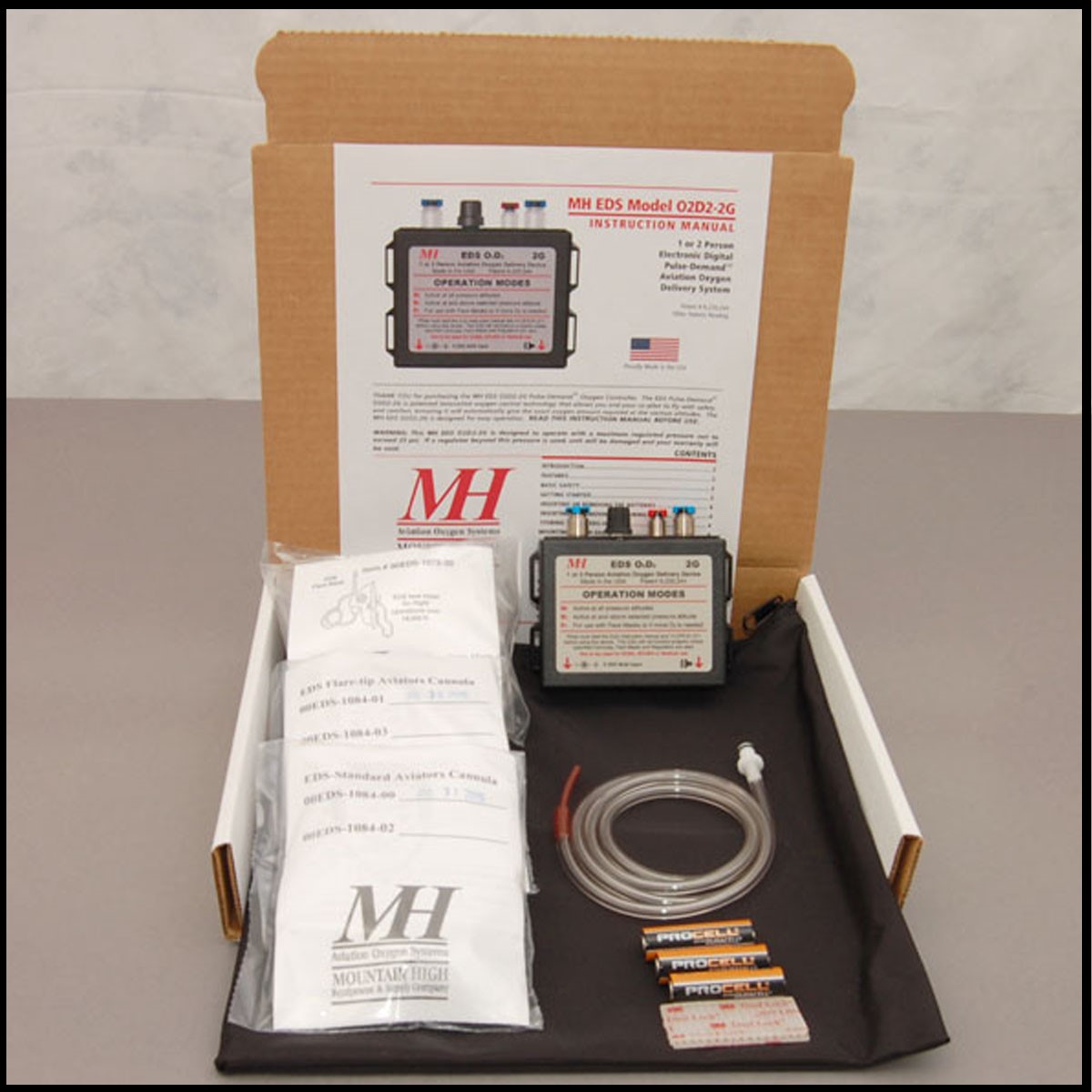 O2D2 Pulse-Demand™ Two Person Oxygen System
The MH EDS O2D2-2G with the patented digital electronic Pulse-Demand™ oxygen delivery system enables the general aviation and
sailplane pilots and passengers to fly at pressure altitudes up to 25,000 feet with safety and comfort. The EDS Pulse-Demand™ technology
is different from the "standard" constant flow systems, the O2D2-2G Pulse-Demand™ system wastes no oxygen during the breathing cycle
(exhaling and pausing before inhaling again) when oxygen is not being delivered to the lungs. The O2D2-2G digital Pulse-Demand™ system reduces oxygen consumption dramatically. The average user will enjoy a duration increase of two to three times compared to the constant flow systems. The system operates with two people for up to 100 hours on three 'AA' alkaline batteries. A low battery warning alerts the pilot that there are about three hours remaining. The O2D2-2G has an external power jack enabling it to be operated from an external power source. The external audio output alarms can be heard over the aircraft ICS.
Easy to use, the Two-Person O2D2-2G with a built-in barometer reduces oxygen system workload to almost nil. There are no oxygen flow indicators to watch nor do you have to manually operate a flow valve, as you would with the constant flow system, due to altitude changes. A rotary switch cycles the O2D2-2G through the various modes that automatically deliver the required supplemental oxygen pulses for both the pilot and passenger. The EDS O2D2-2G unit measures 4.3 X 3.85 X 1.25 inches and weighs 12.1 oz. (343 g.) with batteries.
A complete system consists of an EDS O2D2-2G unit, oxygen cylinder, (buyer has a choice of low-cost aluminum or composite in a variety of sizes), a cylinder carry case, a seat harness, reducing regulator, connection tubing, fittings, 2 standard cannulas, 2 flare-tip cannulas, 2 face masks, three AA batteries, instruction manual and tote bags. (Note: cylinders are shipped empty). Systems picked up in person at MH will be filled with oxygen at no extra charge. If you already own a suitable cylinder, you can order the EDS O2D2-2G unit with any MH portable regulator.
5MD20 0003 00 Rev 1 (EDS 2G User Manual)
Size : 6 MB Format : PDF
Display 100 Products per page
---
---
O2D2 kits and systems
Image
SKU
Name
Summary
Price
Buy

00EDS-2150
O2D2 Kit with In-line Reducing Regulator for OEM Built-In O2

EDS-O2D2-2G Kits to work with Factory Built in Oxygen Systems,
using our In-line Regulators. Choose the connector that fits your aircraft.

$

1,095.00 –

$

1,165.00

00EDS-2000
O2D2 System (EDS, Regulator, Cylinder)

Choose your complete oxygen system.

CGA-540 Standard North American

DIN-477 Euro-Norm

$

1,350.00 –

$

3,650.00

00EDS-2200
O2D2-2G Kit (Without Regulator)

If you already have a Cylinder and MH Regulator, you can order just the O2D2-2G unit kit.
The MH EDS O2D2-2G Pulse Demand Oxygen Delivery System is the only single unit, portable, two-place oxygen system currently available for general aviation.

$

975.00

00EDS-2152-00
O2D2-X-XCR (Reg)

O2D2-2G with Regulator only
If you already own a cylinder, the O2D2-2G with our one-place XCR CGA-540 regulator (4mm) can get you flying longer and higher. The kit includes the O2D2-2G unit, Regulator, 4 EDS cannulas (2 flare tip, 2 regular), 2 face mask, AA battery kit, tote bags and User Manual.

$

1,125.00

00EDS-2152-01
O2D2-2G w/Gauged XCR Regulator

If you already own a cylinder, the O2D2-2G with our one-place XCR CGA-540 gauged regulator (4mm) can get you flying longer and higher. The kit includes the O2D2-2G unit, Regulator, 4 EDS cannulas (2 flare tip, 2 regular), 2 face masks, AA battery kit, tote bags and User Manual.

$

1,189.00

00EDS-2152-03
O2D2-2G with XCR-DIN Gauged Regulator (NEW EURO)

If you already own a cylinder, the O2D2-2G with our one-place XCR DIN-477 gauged regulator (4mm) can get you flying longer and higher. The kit includes the O2D2-2G unit, DIN-477 Regulator, 4 EDS cannulas (2 flare tip, 2 regular), 2 face masks, AA battery kit, tote bags and User Manual.

$

1,189.00

00EDS-2154-00
O2D2-2G with FPR 4-port CGA-540 Regulator

If you already own a cylinder, the O2D2-2G with our 4-port FPR CGA-540 regulator can get you flying longer and higher. The kit includes 1- O2D2-2G unit, FPR Regulator, 4 EDS cannulas (2 flare tip, 2 regular), 2 face masks, AA battery kit, 2 tote bags and User Manual.

$

1,389.00

00EDS-2154-01
O2D2-2G with FPR-Gauged 4-Port Regulator

If you already own a cylinder, the O2D2-2G with our 4-port FPR CGA-540 gauged regulator can get you flying longer and higher. The kit includes 1- O2D2-2G unit, FPR gauged Regulator, 4 EDS cannulas (2 flare tip, 2 regular), 2 face masks, AA battery kit, 2 tote bags and User Manual.

$

1,425.00

00EDS-2154-03
O2D2-2G with FPR DIN 4-Port Gauged Regulator

If you already own a cylinder, the O2D2-2G with our 4-port FPR DIN-477 (euro norm) regulator can get you flying longer and higher. The kit includes 1- O2D2-2G unit, FPR DIN-477 gauged Regulator, 4 EDS cannulas (2 flare tip, 2 regular), 2 face masks, AA battery kit, 2 tote bags and User Manual.

$

1,425.00