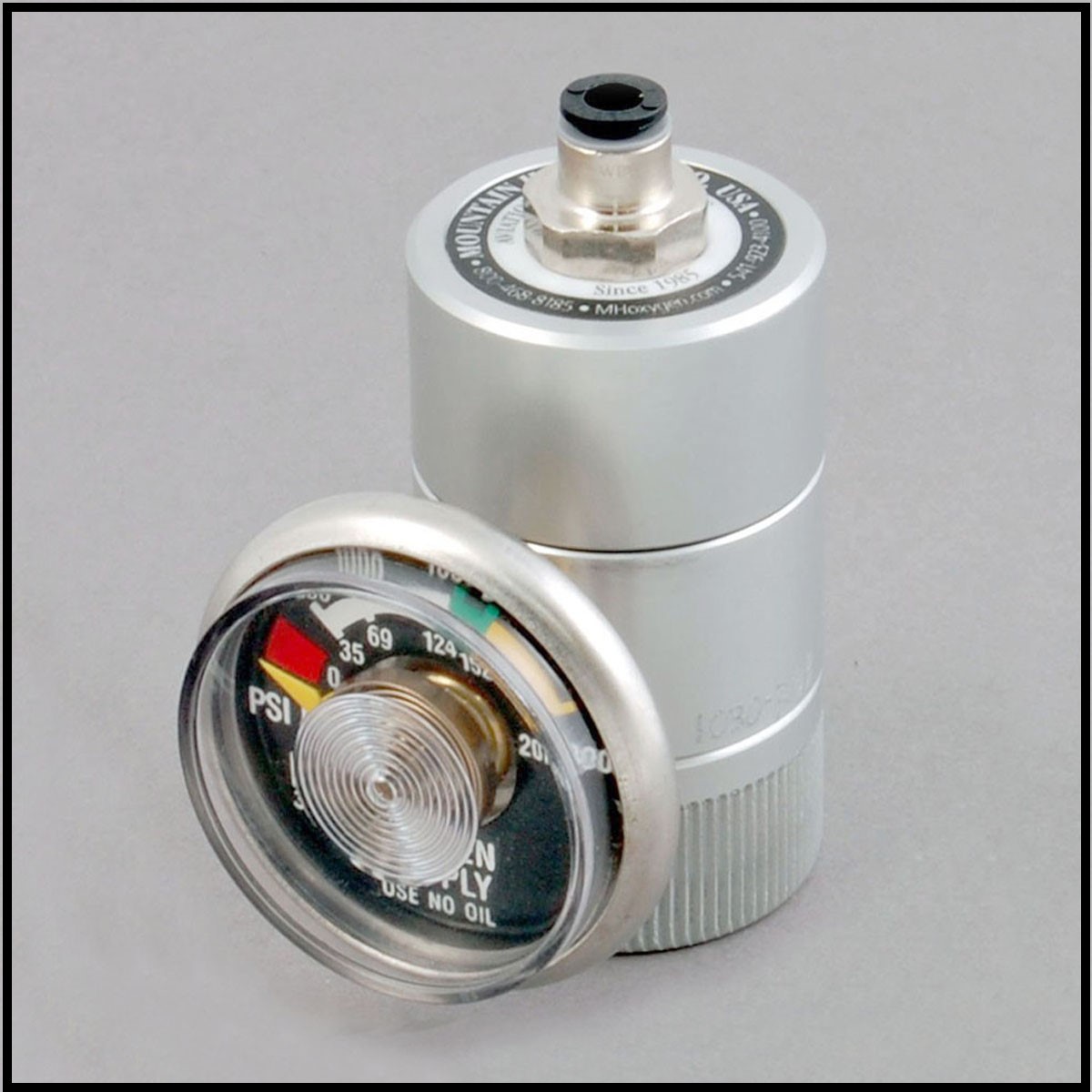 Oxygen Regulators: CGA-540 (US standard)
CGA-540 is the standard fitting for the attachment of a compressed gas cylinder to the required regulator or transfer line in the United States.
Regulator Features Include:
Constant lock-up, flowing pressure range and large flow reserve throughout the pressure charge range of the cylinder. Light weight aluminum body with oxygen compatible brass and seat materials in the critical whetted regulating/throttling high-pressure areas.
Wide operating temperature range. -20 to +50 C:
Special flat-wire Wave-Helix spring design complements the gas dynamics and aging characteristics of the inlet seat to provide lock-up to dynamic pressures that are unusually tightly matched for a piston type regulator design throughout its service life.
Our unique seat design provides very fast lock-up response times with an oscillation-free high flow factors specifically designed for use with pulse demand systems.
All of our high pressure oxygen regulators are designed and built by Mountain High in the USA.
Display 100 Products per page
---
---
CGA-540
Image
SKU
Name
Summary
Price
Buy

00REG-1033-01
XCR Axial Regulator (CGA 540)

XCR-1P Axial Regulator. Our biggest selling regulator.

$

285.00

00REG-2100
Regulator, Assy 2G, 2100 series CGA-540 (No Gauge w/Port)

Regulator, CGA-540 (2G),  Single-Stage with Gauge Port (No Gauge)

$

289.00 –

$

499.00

00REG-2101
Regulator, Assy 2G, 2101 series CGA-540 Gauged

Regulator, CGA-540 (2G), Single-Stage (Gauged)

$

299.00 –

$

499.00

00REG-1004-01
XCP-1P Regulator

XCP-1P 1 place regulator Now smaller, lighter and more compact than ever!

$

245.00

00REG-1018-02
XCP-4P Regulator CGA-540 (No Gauge)

FPR-REG-CGA540-no gauge

$

495.00

00REG-1090-03
Regulator, High Pressure/High Flow CGA-540

High pressure and high flow oxygen regulator with CGA-540 connection.
This is a Build-to-Order item.

$

295.00

00REG-1092-0X
Regulator CGA-540 2-Stage, Axial

CGA-504 2-Stage Axial Regulator 4mm or 6mm.

$

345.00

00REG-1093-0X
Regulator CGA-540 2-Stage, Axial-Gauged

CGA-504 2-Stage Axial Regulator 4mm or 6mm. With Gauge.

$

395.00

APCR2-0100-00
PCR-2 CGA-540 Reg. Dual Action Assy.

Pneumatically Controlled Regulator (PCR-2)
Our new simple to install and simple to operate PCR-2 Oxygen regulator kit for built-in and portable applications. (Although these systems have been designed to meet and exceed FAA TSO and AIR specification, They are not meant for the certified market without an STC or 337.)

$

925.00