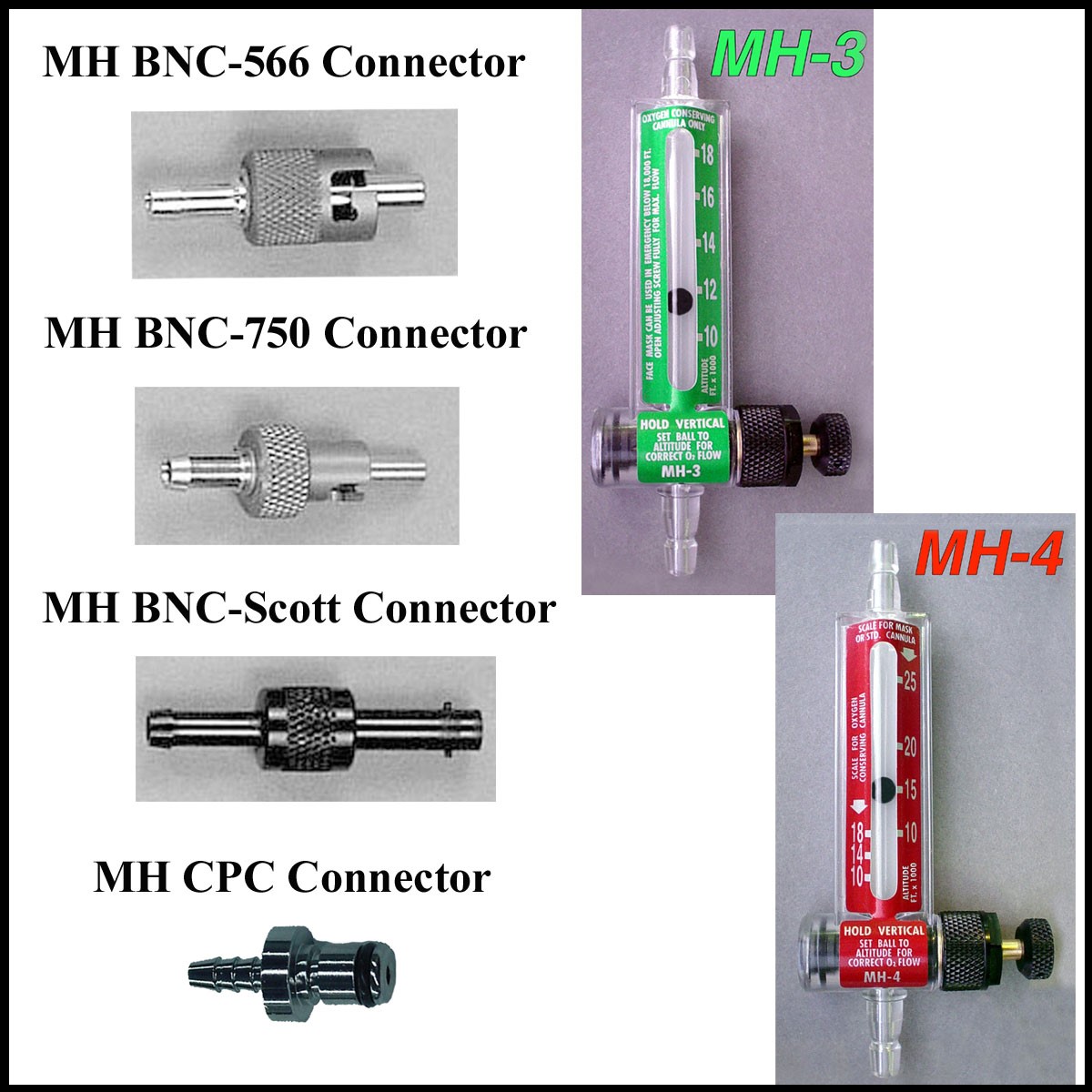 Built-in: Constant Flow
Constant-flow oxygen products and accessories intended for built-in applications.
The (PCR) Pneumatic Controlled Regulator Built-in system gives the home builder a cost effective way to provide his aircraft with a built-in system.
The BNC Oxygen connectors to work with almost any type of built-in aircraft oxygen systems.
Display 100 Products per page
---
---
Constant Flow
Image
SKU
Name
Summary
Price
Buy

00BNC-1040
BNC Adapter

Oxygen connectors for certified aircraft

$

47.00 –

$

68.00

00BNC-10XX-XX
Flowmeters for Built-in Systems

Flowmeters for Built-in systems with tubing and connectors.

$

99.00 –

$

129.00

00BNC-1000
Breathing Stations for Built-in Systems

Everything you need to connect and breathe from an existing, built in oxygen system.
The kit contains, Flowmeter of choice, conserving Oxymizer™ Cannula, Facemask and carry Bag.

BNC-PB-566
Fits most Cessna singles prior to 1980
Fits most Cessna Twins prior to 1970.

BNC-PB-750
Fits most Cessna singles 1980 and later.
Fits most Cessna Twins 1970 and later.
Fits most Diamond Aircraft.

BNC-Scott
Fits most Beachcraft, Mooney, Piper, and others.

CPC style
Fits Cirrus, Columbia, Corvalis and many other newer models.

Please check your fitting before ordering.

Designed for OEM Built-In systems, the MH-3  (green) Flowmeter is calibrated for use with the Oxymizer™ cannula for flight up to 18,000 ft. The MH-4 (red) has two altitude flow scales. The left (compressed) scale is calibrated for the Oxymizer™ cannula and is limited to flight of 18,000 ft.and below. The right scale is calibrated for a standard cannula or facemask up to 30,000 ft.

These Flowmeters come with 1 meter of Poly Tubing (Tygon® type) and Brass plated metal fittings. They are used where higher system outlet pressures are encountered, such as aircraft with built in systems.

$

155.00 –

$

160.00

AMSK-2000
ALPS Facemasks with or without Microphone

Available in small, medium and large, with or with out microphone and choice of feed-tube.

$

189.00 –

$

545.00

AMSK0-0101
Feedtube Assembly for ALPS, Emergency (EOS) Masks

Feedtubes to use ALPS for Emergency

$

69.00 –

$

109.00

KPCR0-1003-00
PCR Regulator System No Breathing Stations

(for pressurized or non-pressurized aircraft)
The PCR system without Breathing Stations.

$

1,334.50 –

$

1,428.00

KPCR0-1004-00
PCR Regulator System w/Breathing Stations

(for pressurized or non-pressurized aircraft)
The complete PCR system with Breathing Stations.

$

1,473.50 –

$

1,791.00

00EOS-0008-04
EOS-011 4-Place Emergency System w/Mounting Kit

4-place (with aircraft cylinder mounting kit) system with KF-011 (11 cu. ft.) Kevlar Composite Cylinder, EOS-1054 regulator,4 ea. EOS face masks, Cylinder mounting brackets and all hardware needed for a built-in EOS system. Great for use in Experimental Pressurized Aircraft.

$

1,550.00

0MH34-0101-00
Flowmeters MH-3 and MH-4

MH-3 or MH-4 Flowmeter. Without Tubing or clamps.


$

73.80

00BNC-1020
BNC-ACR Connector Face Mask / Cannula

Altitude Compensating Regulator (ACR).
These Face-Masks and cannulas are designed as replacements for Aircraft with ACR type systems.

The Oximizer cannula is good to FL-180 and incorporates a toggle type flow indicator.
The fasemask is good to FL-300 and incorporates a roto type flow indicator.

Inlet fittings are available to fit your aircraft's oxygen outlet.
The facemasks can also be used as a backup in pressurized aircraft and designed to flow
~ 3 liters/min at 20 psi.

For delux facemasks check out our ALPS series with feed tubes to meet your needs.

Having trouble? Give us a call.

$

90.00 –

$

175.00

00BLT-1004-01
A34 Feed Tube W/XCP Oxymizer

A34 Feed Tube With XCP Oxymizer Cannula.

$

90.00

00BLT-1006-01
A34 Feed Tube W/XCP Face Mask

A34 Feed Tube With XCP Face Mask

$

70.00

00BLT-1000-00
A34-2ip (2 1/4)

This popular unit for soaring aircraft includes just the cabin altitude gauge and adjuster regulator.

$

625.00