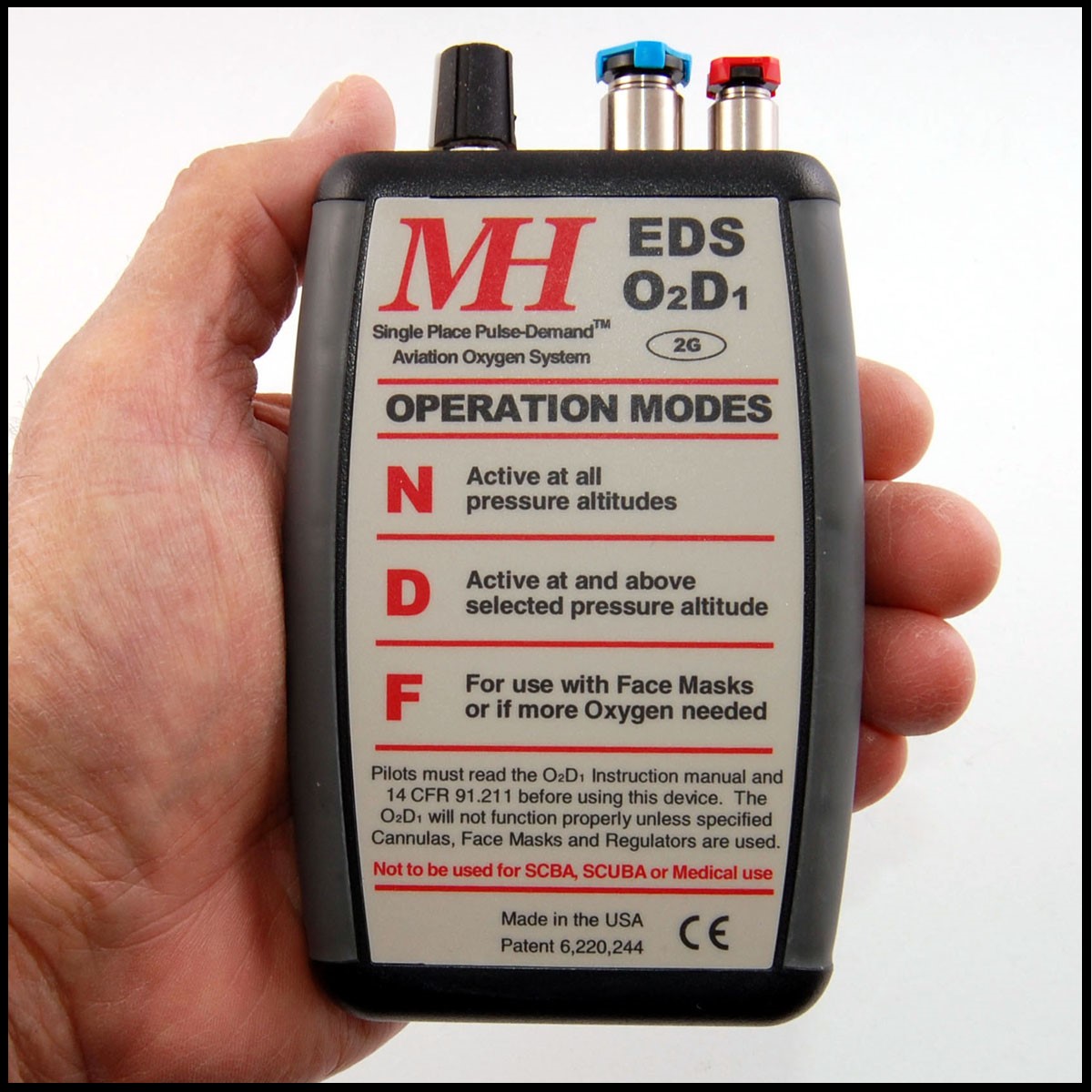 O2D1 Pulse-Demand™ Oxygen Single Person System
What is Electronic *EDS Pulse-Demand™?
The patented MH EDS Pulse-Demand™ devices have precision micro-electronic circuits that automatically adjust the volume of each oxygen pulse according to pressure altitude. Increase in altitude are compensated with pulses of greater volume. The MH EDS can be set to a mode where it will not deliver oxygen below pressure altitudes of either 5000 or 10,000 ft., saving oxygen below altitudes where it is not needed. It can be set to another mode where it delivers oxygen at all pressure altitudes. Both modes provide the same amount of oxygen for a given altitude and automatically track altitude changes. In addition, there are four additional modes to accommodate face masks or users who need extra oxygen. There are no scales to observe or knobs to turn as you climb or descend. Adjusting for climb or descent is not needed because the MH EDS responds automatically to pressure altitude. The MH EDS is a truly automatic hands-free oxygen delivery system that enhances your safety and comfort.
How Pulse Demand Works 
The patented MH EDS (Electronic Delivery System) is a one (O2D1-2G)  or two-user (O2D2-2G) aviation oxygen delivery device. It is designed to deliver aviation oxygen in the most efficient, comfortable and convenient way possible. With its user-selectable settings, apnea alarm and small size, the MH EDS  O2D1 is the most portable and flexible electronic digital oxygen delivery system in the world. By providing a measured pulse of oxygen every time you breathe in, the MH EDS supplies the oxygen you need to stay alert and comfortable while flying. In contrast to constant flow systems that waste oxygen by supplying more than your body can use, the MH EDS provides a short pulse of oxygen as you inhale, ensuring that your oxygen is used most efficiently. Efficient oxygen delivery means you can fly further on a single oxygen refill or save space and weight with a smaller tank. It also makes it more feasible to enjoy the advantages of oxygen while flying below the altitudes where oxygen is mandated– that can mean fewer headaches, increased alertness, and feeling less exhausted when you reach your destination. Your actual oxygen usage will be determined by your breathing rate and physiological needs at altitude. The programmability of the  MH EDS means that, unlike constant-flow oxygen systems, you can "set it and forget it". By automatically detecting your pressure altitude, the MH EDS can be set to start providing oxygen immediately or at a specified altitude and will automatically adjust the oxygen flow as your altitude changes. When you're flying, don't you have more important things to do than adjust your oxygen flow during altitude changes?
Display 100 Products per page
---
---
O2D1 kits and systems
Image
SKU
Name
Summary
Price
Buy

00EDS-1050
O2D1 with In-line Reducing Regulator for Built-In O2

EDS-O2D1-2G Kits to work with Factory Built in Oxygen Systems,
using our STR In-line Regulators. Choose the connector that fits your aircraft.

$

895.00 –

$

925.00

00EDS-1200
O2D1-2G Kit

The single place outlet O2D1-2G kit comes with (2) AA batteries and 2 cannulas (1 Standard and 1 Flare-Tip) and 1 face mask in a handy carry bag.

$

695.00

00EDS-1000
O2D1 System (EDS, Regulator, and Cylinder)

The system consists of the following items: Oxygen cylinder with Full-Pack or CMK mounting kit, the XCR primary reducing regulator, low-pressure service line, EDS Pulse Demand™ unit, breathing cannulas, face mask and tote bag.
The basic EDS-O2D1-2G is a single place outlet system. Two units may be combined for a two place system such as would be used in a tandem configuration.

CGA-540 Standard North American

DIN-477 Euro-Norm

$

1,025.00 –

$

3,490.00

00EDS-1052-00
O2D1-X-XCR

If you already own a cylinder, the O2D1-2G with our one-place XCR CGA-540 regulator (4mm) can get you flying longer and higher. The kit includes the O2D1-2G unit, Regulator, 2 EDS cannulas (one flare tip, 1 regular), 1 face mask, 2 AA batteries, tote bag and User Manual.

$

895.00

00EDS-1046-01
O2D1-X-XCP-1P

If you already own a cylinder, the O2D1-2G with our one-place XCP CGA-540 regulator (6mm) can get you flying longer and higher. The kit includes the O2D1-2G unit, Regulator, 2 EDS cannulas (one flare tip, 1 regular), 1 face mask, 2 AA batteries, tote bag and User Manual.

$

895.00

00EDS-1046-02
O2D1-X-FPR-2P

If you already own a cylinder, the O2D1-2G with our 4-port FPR CGA-540 regulator can get you flying longer and higher. The kit includes two O2D1-2G units, Regulator, 4 EDS cannulas (2 flare tip, 2 regular), 2 face masks, 4 AA batteries, 2 tote bags and User Manual.

$

1,795.00

00EDS-1054-01
O2D1-X-XCR-540-G-1P

If you already own a cylinder, the O2D1-2G with our one-place XCR CGA-540 gauged regulator (4mm) can get you flying longer and higher. The kit includes the O2D1-2G unit, Regulator, 2 EDS cannulas (one flare tip, 1 regular), 1 face mask, 2 AA batteries, tote bag and User Manual.

$

925.00

00EDS-1054-02
O2D1-X-XCR-540-G-2P

If you already own a cylinder, the O2D1-2G with our one-place XCR CGA-540 gauged regulator and "Y" Split Kit can get you flying longer and higher. The kit includes 2- O2D1-2G units, Regulator, 4 EDS cannulas (2 flare tip, 2 regular), 2 face masks, 4 AA batteries, tote bags and User Manual.

$

1,625.00

00EDS-1055-00
O2D1-X-FPR-540-G-2P

If you already own a cylinder, the O2D1-2G with our 4-place FPR CGA-540 gauged regulator can get you flying longer and higher. The kit includes 2- O2D1-2G units, Regulator, 4 EDS cannulas (2 flare tip, 2 regular), 2 face masks, 4 AA batteries, tote bags and User Manual.

$

1,795.00

00EDS-1060-00
O2D1-X-DIN-G-FPR-2P

If you already own a cylinder, the O2D1-2G with our 4-place FPR DIN-477 (euro norm) gauged regulator can get you flying longer and higher. The kit includes 2- O2D1-2G units, DIN-477 Regulator, 4 EDS cannulas (2 flare tip, 2 regular), 2 face masks, 4 AA batteries, tote bags and User Manual.

$

1,795.00

00EDS-1061-00
O2D1-XCR-G DIN (2P) w/split kit

If you already own a cylinder, the O2D1-2G with our one-place XCR DIN-477 (euro norm) gauged regulator and "Y" Split Kit can get you flying longer and higher. The kit includes 2- O2D1-2G units, Regulator, 4 EDS cannulas (2 flare tip, 2 regular), 2 face masks, 4 AA batteries, tote bags and User Manual.

$

1,655.00

00EDS-1062-02
O2D1-DIN-477 W/G (NEW EURO)

If you already own a cylinder, the O2D1-2G with our one-place XCR DIN-477 (euro norm) regulator can get you flying longer and higher. The kit includes the O2D1-2G unit, DIN-477 Regulator, 2 EDS cannulas (one flare tip, 1 regular), 1 face mask, 2 AA batteries, tote bag and User Manual.

$

980.00